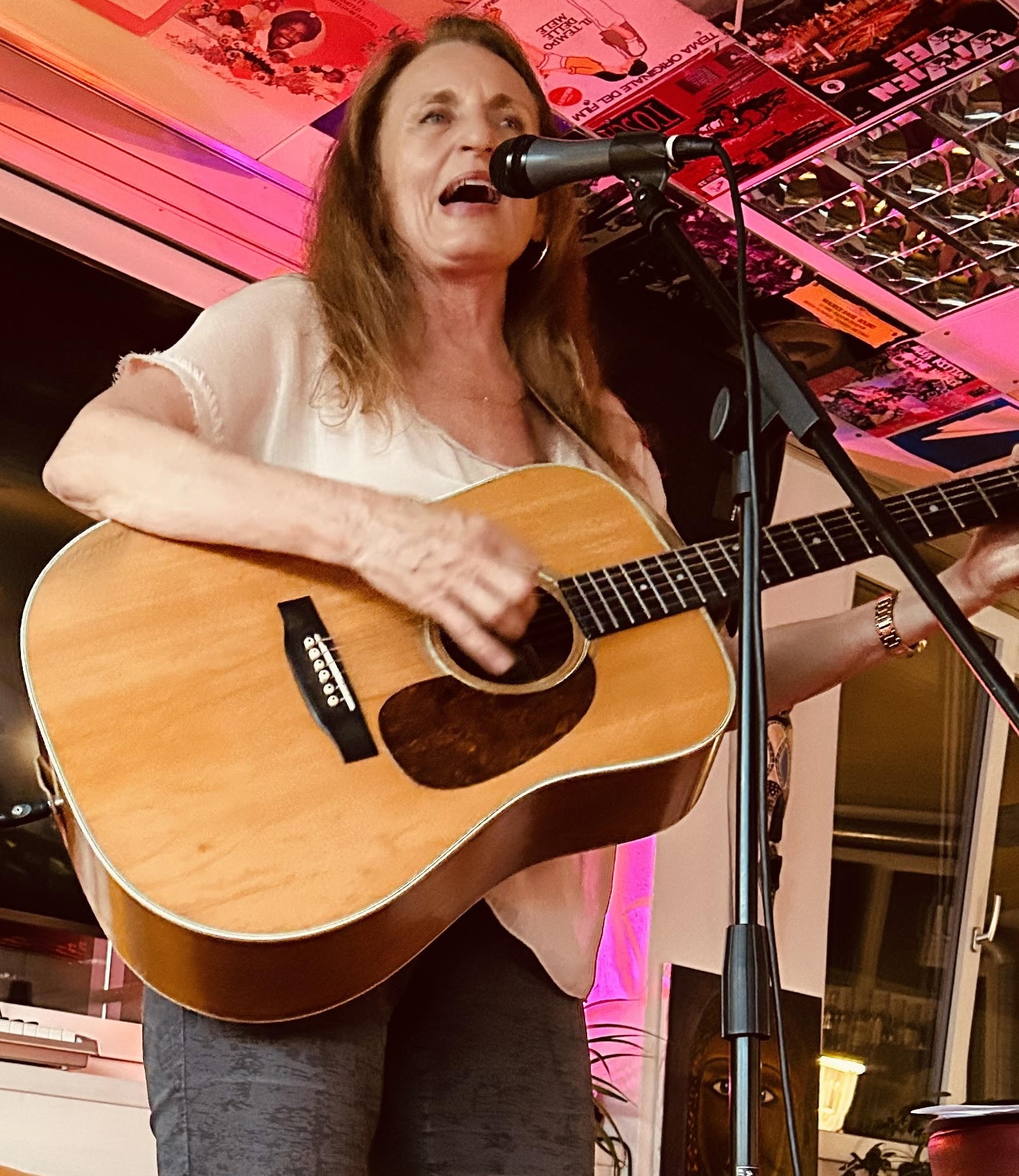 Thank you for letting me share the magic of music with you! My player has tracks and the Songs page offers some of the tunes from my "No Time to Be Blue" CD, which is available through CD Baby, Amazon.com and Amazon.de - and can also be streamed on Spotify.
New dates for my Singer-Songwriter Concert will be announced soon. Photo to the right is from the concert on June 2, 2023 at the Cinque Bistro in Richterswil, Switzerland (taken by Marco Palmieri).
I offer songwriter events in Zurich, Switzerland: The Songwriter Circle on last Thursday of the month will continue in September. 
I also offer private coaching in songwriting, voice, and performance on Skype, Zoom, or in Zurich, Switzerland. Please contact me directly via email to make an appointment. Please contact me if you'd like the translation of German lyrics into English or a completely new lyric for a song (see the Lyrics page for more information). 
 Here is an article about my life and work in the "Inspiring Women" magazine of November 2020, starting on page 36.
For information about my sound healing work, please see the Vibratuning.com website.  
Love and blessings,
Christina Grimm
 
"Christina Grimm is a classic singer/songwriter in the 1970's style of Carole King and Joni Mitchell. Imbued with passion, personal appeal, humor and life, Grimm is a highly entertaining figure both on stage and on CD. Her latest release, No Time To Be Blue, encompasses the performance spirit and wit of the golden age of singer/songwriters; using pop, folk, rock and blues as backdrops for her intricate and subtle story songs." Wildy's World
Photo to the left by Andrea Monica Hug
Photo to the right by Marco Palmieri